Thanks to today's advances in orthodontic technology, Prestwich Orthodontics can provide our patients with more options than ever before when it comes to wearing braces . While traditional metal braces are still widely used, clear braces are very popular with teens and adults who are self conscious about wearing braces, along with Invisalign removable aligners, the "braceless" alternative to straight teeth. Dr. Tyler Prestwich will help you determine which treatment option is right for you.
Invisalign and Spark Clear Aligners
Invisalign and Spark Clear Aligners use a series of removable, customized, clear aligners to straighten your smile without the use of noticeable brackets or wires. These aligners are removable so you are not as limited in what you can eat and drink during treatment. Another benefit of Invisalign is that brushing and flossing is easier than with traditional braces, because you don't have to work around braces. Without metal appliances, less mouth abrasions are caused, adding to overall comfort. One thing to consider is that because the aligners are not attached to the teeth, there can be less control of certain tooth movements as compared to traditional or ceramic braces.  There are several perks of Invisalign highlighted below.
Comfortable to wear
Removable aligners
The least noticeable treatment option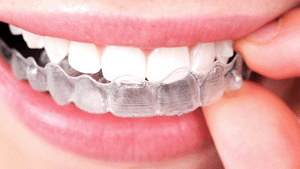 Damon Braces (Metal or Ceramic)
We are pleased to offer our patients passive self-ligating Damon System braces. There are several benefits to Damon braces, some of which are highlighted below:
Damon braces allow freedom of movement– Instead of elastic ties, Damon braces use a slide mechanism to hold the archwire. This reduces the amount of pressure exerted on the teeth and allows the teeth to move more freely, quickly, and comfortably.
Fewer adjustments may be required – As a result, your appointments will be shorter and may be fewer in number.
Damon braces are small, very comfortable, and easy to keep clean, making dental hygiene easier during treatment.
Clear option available. The Damon System's Damon Clear2 ceramic brackets are a smart option for patients who want a great smile without sacrificing esthetics.

Metal Braces
Although we use Damon System braces for some types of cases, we also work extensively with traditional metal braces. Traditional metal braces are constructed out of high-grade metal alloys and are now smaller and more comfortable than ever before. Both Damon braces and traditional braces allow the addition of colors to add to the uniqueness of your changing smile. Dr. Prestwich will help you determine which option is right for you.