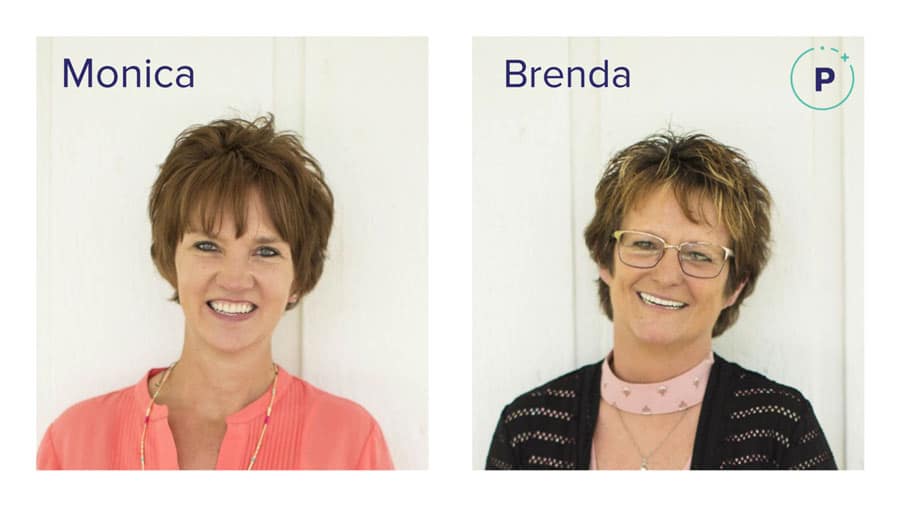 Some might think it's unusual for an orthodontist to write a blog post on a topic unrelated to teeth.  But at Prestwich Orthodontics, we're concerned with more than just straightening teeth.  Our mission is to inspire people to be their best selves.  A healthy, confident smile is part of that, but it's only one part of it.  This post covers a topic near and dear to our hearts, and no, it's not related to teeth.  There will be time for that later.  This post tells the inspiring story of two of our awesome team members and how a selfless act has forever blessed the lives of many people.
There are times in life when we are presented with an opportunity to do something truly meaningful for another person.  Some seize that opportunity and reap the rewards that come from giving of oneself, others let it pass them by and may never know what good they could have done.  Monica and Brenda have been working together in our office for over two decades and when such an opportunity was presented to Monica, she grabbed it and never looked back.
Brenda's son Clint has been managing Type 1 Diabetes for over 30 years.  Around Christmas time in 2015, he began having pneumonia and bronchitis-like symptoms.  In May of 2016, after several months of testing and seeing doctors, Clint received the devastating news that he had End Stage Kidney Failure at 35 years old.  The doctors attributed the diagnosis to his long battle with Diabetes and other health issues.  His best long-term option was to find a direct living kidney donor.  Many of his family and friends attempted to match directly with Clint's blood and tissue type, but were unsuccessful.  One of these friends was Monica.  From the moment she heard her friend's son needed a kidney, she was committed to help.  She immediately volunteered to be tested, but was disappointed to learn she was not a match and could not be a direct living donor.
This story didn't end there, however.  Hospital administrators at Sanford Health in Bismarck, informed Monica of the Kidney Paired Donation or Paired Exchange program through which she still might be able to help her friend.  This program amounts to a kind of kidney swap, where living donor and recipient pairs exchange kidneys to find a match.  By exchanging kidneys, two or more transplants are made possible.  Monica figured that if she was already willing to donate a kidney to Clint that it didn't matter who she donated to, as long as Clint got a kidney as well.
She eagerly signed up and after two potential matches fell through, she got a third phone call that would change her life forever.  She knew this attempt would be successful.  With the full support of her family and never a second thought, she went into surgery on June 29th, 2017.  One of her kidneys went to a recipient in Michigan and later that day a plane carrying a kidney for Clint arrived in Bismarck.  Both transplant surgeries were successful.
Clint's health has steadily improved and he feels better than he has in years.  He's off dialysis and has his life back.  Monica, true to form, was back to work in two short weeks.  She said, "I feel very blessed to be able to be a part of helping save two peoples' lives and I would do it again if I could."  Her goal now is to educate more people about the Paired Exchange program so more people receive kidneys they desperately need.
This experience has brought Monica and Brenda together in a way few things could.  Brenda and her family will forever be grateful that Monica didn't let this opportunity to literally give of herself pass her by.  Those of us fortunate to work with Brenda and Monica know that caring about others is just part of who they are.  What great examples they are and what a great reminder of what life is all about.
If you, or someone you know, is interested in learning more about the Paired Exchange program, please visit https://www.unos.org/dontation/kidney-paired-donation/ to find more information about how you can help.
Thanks for reading and remember there's good all around us and each of us has the potential to do great things and become greater people.

Tyler Prestwich, DDS, MS