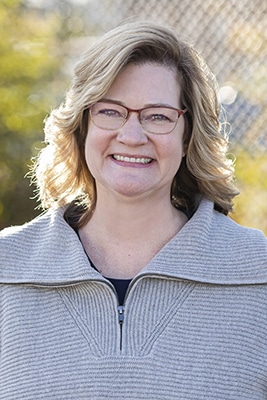 Administrative Team Coordinator/Financial Coordinator
accounts@minotbraces.com
Years of Experience   I have been in healthcare since 1991, with the exception of 5 years when I dabbled in construction.
Certifications/Credentials     A+ Certified and I have attended many insurance and management courses over the years.
One professional (MVP) accomplishment
My family is my greatest accomplishment.
Values and how they inform your career
Making a difference and making people smile.  Helping where I can and make each visit to our facility a happy one. I am a people person.  I enjoy meeting new people and sharing our stories.  I love to meet people from my home state of Wisconsin and to talk up our sports teams (even in an off or rebuilding year)!
Outside of work
Family: My husband and I have 3 amazing grown children, a terrific son-in-law, and we are the proud grandparents to Huxley.
Hometown: Rudolph, Wisconsin – yes, like the reindeer and home of the Dairy State Cheese Factory.
Sports I play: you're joking right?!
Hobbies and interests: I enjoy baking, canning, fishing and spending time with my family. My family is my pride and joy.
Favorite music: Country music.
Travel destinations: Wisconsin and Florida to visit family. Nashville, I loved it there.  Someday I'd love to see Ireland.
Side hustles: I am an Amway IBO and Primerica IBA